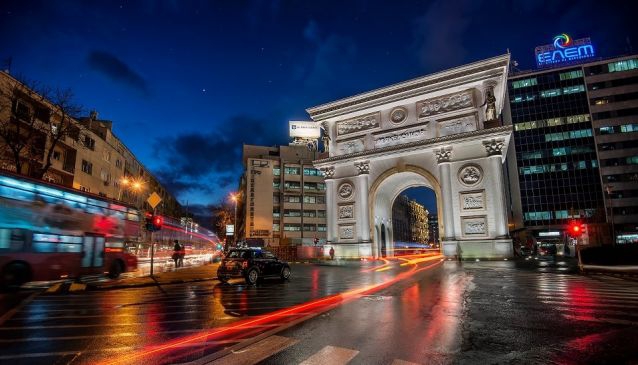 A Weekend in Skopje, Macedonia
Adventure
Fantastic nightlife, wonderful sights, breathtaking views, and all that on a tight budget!
If you're looking for a great, fun, and a low budget weekend away, then Skopje is the destination for you. Whether you want fantastic nightlife, delicious and cheap meals or the most elegant of surroundings, you'll find your perfect weekend break here in our capital, and all that at a great price.
There is no better way of getting to know Skopje closer, than by starting your weekend break by visiting some of the many museums and learning more about the city's history. First on the list is the Museum of the Macedonian struggle. It will cost only 200 denars (3,20 Euros) for two persons to enter, and gives great insight into the Macedonian turbulent past and the struggle for independence. It's one of the new-built objects within the project "Skopje 2014" and it's located between the Museum of Archeology, the Holocaust Museum of Macedonia, the Stone Bridge and the river Vardar, therefore offering a handful of sights and attractions as an alternative. The Museum consists of thirteen units, each of which presents the history of the Macedonian people from certain periods. You can visit the museum from 10 a.m., and it's a great place where history is presented in a magical way, and for a moment, it can even take you back into the past. It is presented by a guide, who of course has wide knowledge, explains everything and will be glad to answer all of your questions.
Since you'll already be in the mood of visiting museums, we recommend continuing to the Museum of the City of Skopje. It's not far away from the previous museum, and you can reach it by walking through the city center packed with shopping malls, coffee shops and numerous statues of important and great historical individuals. When you come to its doorstep, the first thing you'll notice is the big clock on its exterior that shows 5:17 the time when the disastrous Skopje earthquake struck on 27-th of July 1963. It is located at what's left of the old railway station that was partly destroyed in this earthquake. The entry is free and it's open from 09 a.m. - 4 p.m. If you want to learn more about this city, then this museum has different exhibitions related to the culture, people and history of Skopje.
After spending several hours in the museums and learning about its past, Skopje city center is a great place where you can unwind by strolling through its streets, exploring its coffee shops and restaurants as well as shopping malls that for sure have many things to offer if you're interested in window-shopping. There are numerous statues and monuments in the city centre that are not only part of this city's past but the whole country as well. The unique monument and fountain "Warrior on a horse" which is dedicated to Alexander the Great, is the one you should and will not miss as it dominates the Macedonia Square landscape. The statue itself is built into a large fountain and stands at a colossal 22 meters high. The Macedonia Gate - a triumphal arch located on Pella square should also be part of your must visit list. It's dedicated to the 20 years of Macedonian independence and its rooftop allows great view of the city centre as well as Vodno mountain and the boulevards that lead to the city centre. Kamen Most (Stone Bridge), The Old Bazaar Skopje, Mother Teresa Memorial House as well as many other monuments dedicated to historically important figures will escort you as you're walking through the heart of the capital. We also recommend visiting the city centre by night as the buildings and monuments have special lighting arrangements and offer quite stunning views, plus the nights are buzzing with people that enjoy the coffee shops and nightclubs.
The next day you can continue your adventure by visiting Skopje Zoo as early as 9 a.m. (for those of you who like early Sundays) and it'll cost just 100 denars (1,60 euros) for a couple. The Zoo is restored with 10 new exotic animals and its totals 495 animals and 96 animal species. They're disposed in several classes such as: mammals, birds, reptiles, fish, insects and arachnids. The spacious and various animal shelters will give you the feeling, even if for a moment, that you're part of the wilderness and that the lion will instantly catch and hunt its trophy so it can be full in the next couple of days.
The best way to finish your weekend is to visit Vodno mountain and get to know its beautiful surroundings, fresh air and astonishing scenery of its magnificent nature. You can reach Sredno Vodno by bus (you must note that the bus route starts from the city's bus station) or on foot. When you get to Sredno Vodno, you'll reach Vodno mountain by cable-car which in 10 minutes will lead you right to the top of this beautiful mountain as well as the Millennium Cross offering a great view of Skopje along the way. The world's largest Christian cross was built in 2002 and it stands magnificently on top of mount Vodno. The price of the tickets are only 200 denars (3,25 euros for 2 persons) and the experience is completely worth it. You can also have small snacks here since there're shops where you can rest and enjoy the sun and fresh air. For the brave and adventurous ones, you can go hiking to the top and enjoy the stunning views of the surrounding mountains, nature as well as the breathtaking view of the city centre. In fact, you can be one of the many who are trekking and are amazed by its natural landscapes and incredible views, as Sunday is Vodno day for many residents of Skopje. We think these suggestions are perfect for a week-end getaway especially since you won't need to spend more than 25 EUR for the full two days (as for accommodation we're sure you'll find something that suits your budget at our accommodation section). So, whatever your style is, you can find so much things to see and do during your weekend in Skopje.
During the two days you can enjoy the traditional pastry as food on the go and you also might need to get a ticket for 10 trips for the public transport which will set you back 500 MKD (8.10 EUR) for two persons.

All in all we hope you enjoy this adventourous week-end in Skopje!