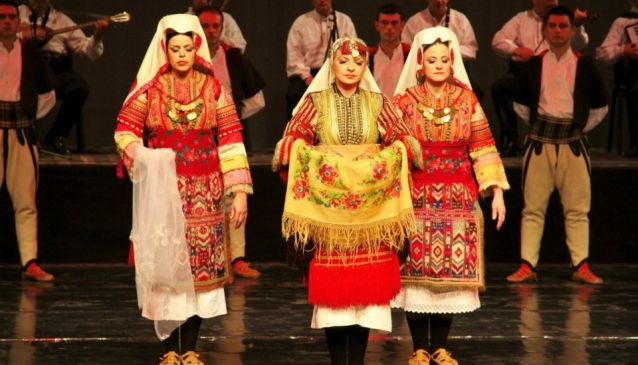 Traditional Macedonian Folk Dances
Arts & Culture
Traditional folk dance is arguably the best way to discover and experience the Macedonian culture
Macedonians are closely connected with their traditions and respect the cultural heritage that has been passed on with centuries from one generation to another. Most of Macedonia's folklore consists of folktales, aphorisms, traditional folk dances, folk embroidery, colourful costumes, folklore music and pottery.
One of the best forms through which you can discover the Macedonian culture and tradition is traditional folk dances performed with passion by people of all ages. Depending on the style, choreography and the customs they express, there are dances which originate from five different regions of Macedonia including dances from South Macedonia, East, West as well as dances which originate from the North of Macedonia or Southwestern region.
There are many traditional folk dances in Macedonia and all are different and beautiful in their own way. They burst with rhythms, fast dancing steps, colorful costumes, vigorousness and beautiful songs and are named according to instruments, customs and rituals as well as names of towns and villages.
The traditional folk dances are usually performed during important holidays including Christmas, Feast of Saint Peter and Paul, Easter, Saint George's Day as well as during national holidays and various celebrations.
Macedonian Ensemble "Tanec" performing "Teshkoto"
Macedonia is proud of many folk ensembles of folk dances and songs all over the country including "Orce Nikolov" – Skopje, Mirche Acev –Skopje, "Jonche Hristovski" – Skopje, "Ilinden" – Bitola, "Karposh" – Kriva Palanka, "Tikvesh" – Kavadarci, "Niko Pusoski" – Kichevo, "Bojmija" – Gevgelija and many others.
The most popular and world-known folk ensemble of Macedonia is "Tanec" which is considered as an ambassador of the Macedonian folklore tradition worldwide.
These folk ensembles perform a wide range of traditional folk dances including, "Teshkoto", "Nevestinsko", "Drachevka", "Maleshevka", "Sedenka", "Osogovka", "Lazarenki", "Komitsko", "Tresenica", "Kalajdjisko" and many more others.
The most popular traditional Macedonian folk dance is "Teshkoto", it is considered as one of the most beautiful dances and it is performed only by men. "Teshkoto" originates from Lazaropole and its origins date back to times when poor villagers had to go abroad so they could provide for the families. The dance was then performed at the end of the village where the families sent their close ones therefore its name "the difficult" representing hardship and struggle as well as the difficult moves performed by the dancers. The dance is accompanied by two zurlas and a drum.
Macedonian Ensemble "Tanec" performing "Nevestinsko"
Another beautiful Macedonian folk dance is "Nevestinsko" which originates from Mala Reka an area around Debar. This is a bridal dance, based on the melody of the popular Macedonian song "Prsten mi padna" and it shows Macedonian traditional wedding as well as the pure beauty of the Macedonian woman. Eight women participate in the dance they all are wearing costumes which originate from Mala Reka and are traditional for this dance. "Nevestinsko" is a splendid Macedonian traditional dance, recognized by the balanced and elegant movements.
"Sedenka" is a vivid traditional folk dance where both men and women participate. The dance originates from the villages of Sredorek and Zegliovo and it represents the life of young people many years ago. The dance is composed of two parts, the first part is performed by two men and a women who show courtship through mimics and dramatic dancing. The second part is a lively dance with strict movements performed by all participants.
Macedonian Ensemble "Tanec" performing "Sedenka"
Many years ago Macedonian people where spending most of their time in craft activities. The tinsmith craft was most dominant in Veles from where the first steps of a new traditional dance appeared. "Kalajdjisko" is a beautiful Macedonian traditional dance which briefly shows the characteristic of the way on which the baking tins where made. The movements of "Kalajdjisko" are dynamic rhythmical and performed with joy by both men and women folk dancers.
Macedonian Ensemble "Koco Racin" performing "Kalajdjisko"
Macedonia is proud of many other traditional folk dances and "Osogovka" is one of them. This male dance originates from the villages of Osogovo Mountain and it is recognized by the dynamic, fast but yet balanced movements of the performers. The costumes for the traditional dance "Osogovka" are clean white, and the music is performed by orchestra of bagpipes followed by a folk orchestra. Both the music and the performance together with the beautiful traditional costumes create a masterpiece, a traditional dance which will surely impress you.
Macedonian Ensemble "Tanec" performing "Osogovka"
Macedonian tradition is not recognized only by the traditional folk dances but also the traditional costumes, music and embroidery play an important role. The ethnic Macedonian traditional music includes: lyric songs, epic songs, labour songs, ritual songs and humorous songs. Some of the most popular traditional songs are: "Biljana platno beleshe", "Dafino vino crveno", "Kalesh bre Angjo" and many others. The musical instruments are of huge importance in Macedonian traditional music and they all originate from different parts. The beautiful sound of every song is accompanied by zurla, shepherd's pipe, drums, tambourine, bag pipes and earth ware kettledrum which make the dances authentic and noticeable.
Particular attention is devoted to the traditional folk costumes which are created over a long period of time. There are more than 70 traditional folk costumes that originate from Macedonia. They are made of several materials including wool, cotton and leather. Women wear ankle-length dresses, a wide apron, white linen shirt, belt and a head scarf. They complement the clothing with unique jewellery and wear leather moccasins. The traditional costumes of men consist of vests, white linen shirts, pants and wide leather belt. The performers wear the traditional costume that suits the traditional dance they are performing.


Macedonian Ensemble "Biljana" performing "Biljana Platno Belese"
Macedonia has a long history and it is a country with rich tradition and culture. The traditional folk dances together with the costumes, folk instruments and music represent the life of Macedonians many years ago when we struggled with wars, poverty and hardship but are also witnesses of the perseverance and courage of our small nation. The traditional folk dances passed on from one generation to another will always remind us of the long and suffering history of our people.