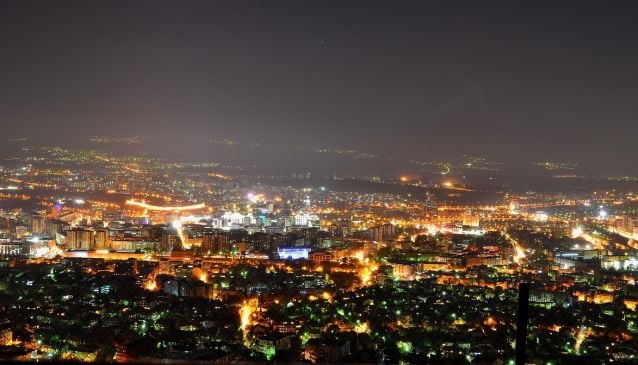 Late Nights in Skopje
Adventure
The buzzing club scene is often complemented by numerous concerts, parties and DJ performances
With close to an estimated million people moving through Skopje daily, including travellers and students, the capital of Macedonia is one of the busiest, noisiest and most exciting places in the country to visit. Though during the days there are plenty of activities, and as a tourist you might see a lot of people just rushing to finish up their daily tasks but also a lot of people just enjoying that mid-day coffee in the cafés. It's contradictory but citizens of Skopje always find time for relaxation and soaking in the city's café and bar scene, it's simply in the routine and city culture.
Besides the quick stops of the day, Skopje is by far the most popular destination for nightlife entertainment in the country. The buzzing club scene is often complemented by numerous concerts, parties and DJ performances that will surely spice up your stay and will provide a nice contrast to visiting the museums, Vodno Mountain and shopping malls. This is not surprising considering Skopje's large and vibrant student community.
If this is your first time experiencing the nightlife in Skopje, we have everything you need to know right here.
In Skopje you don't just go to the clubs, you have to do some pre-club hanging out with friends first (22:00 – 01:00) and, there are several options for that:
Kafanas are one of the more popular options when it comes to purely hanging out with friends, having a bite and enjoying a drink or two. The Kafanas are typical small and often great value for money restaurants that have a lively ambiance, most probably a live band performing and serve local specialties and drinks. We recommend visiting some of the Kafanas located in the Old Bazaar and around the centre of the city. But be careful, there are many Kafana types in terms of the music selection which will in turn dictate the ambiance. There are Kafanas that have a band performing slow popular and romantic tunes, some perform folk and turbo folk Balkan music and there are some that perform traditional Macedonian music. Suffice to say we recommend the last one.
Café Bars and Pubs are most often the same destinations people visit during the day and almost all of the time they have a rich evening programme that includes DJs and live bands. If there are any nightlife destinations that are aplenty in Skopje those are the Café Bars and Pubs, with a many to choose from in the city centre and in a particular neighbourhood called Debar Maalo located 5-10 mins away from the centre. The Café Bars and Pubs, just like the Kafanas offer various types of music. Live bands usually perform international rock and ex-YU rock (popular rock songs from Yugoslavia), where as the DJs on the other hand usually play R&B, light house and commercial hits. If you want to be seen and visit some of the more exclusive Café Bars and Pubs then visit either the bars on the quay of Vardar River or in Debar Maalo.
In case you want a quiet night before you head over to the club then you can visit any of the many restaurants in the city centre so you can be close to transferring to the nearby clubs when the time comes.
Next comes the club scene with plenty of clubs to choose from that all play popular international music, mostly commercial current hits, but also house, R&B and dance hits. Here we won't suggest anything as it depends on the type of music you like so make sure you check out what's on and where. There are several rules of thumb when visiting the clubs in Skopje:
Recommended days to go out are from Wednesday (usually reserved for student parties) through Sunday with Saturday being the busiest and most fun.
The right time to enter a club is from 00:30 to 01:30 depending on whether you have a reservation or not. Our advice is to always make a reservation that will usually require buying a bottle. In that case you won't have any trouble getting in and you won't have to wait in line.
Get friendly with the staff– if you plan on visiting one place more often try to get friendly with the staff, you'll get better seats, better service and no problems trying to get in.
General safety tips­ – as in visiting every club you should always be careful about your safety, always remember that responsible clubbing comes first.
After hours there are plenty of food places open so you can have a late night snack before calling it a night.
At the end make sure you make a lot of memories, friends and have a blast, we're sure Skopje has plenty to offer and you will have the time of your lives.