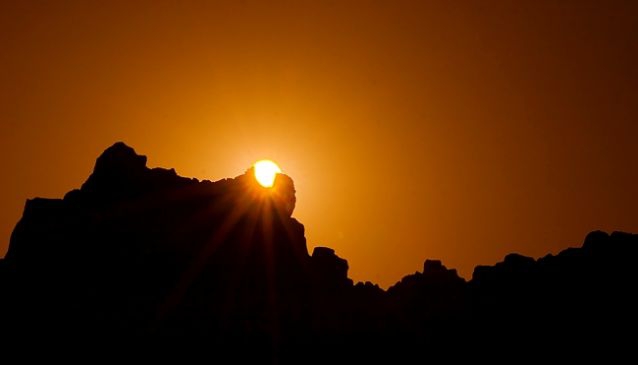 The Ancient Observatory
Adventure
feel the mystic power of the four thrones of Kokino made almost 6,000 years ago
Kokino observatory is placed right beneath the mountain peak Tatikev-kamen in municipality of Staro Nagorichane, and approximately 30km from Kumanovo, in the north-eastern part of Republic of Macedonia.
The ancient observatory dates from the Bronze Age and is one of the oldest archeological findings, originating from the 19th century BC.
The observatory was used to define the four main positions of the moon and three main positions of the sun during the year, the autumnal and vernal equinox and winter and summer solstice. One specially positioned marker shows that the observatory was also used to follow the movement of the star cluster "Pleiades". Kokino is divided in two main parts with diameter of about 100 meters set on scalable platforms. On the highest platform is the central place with an observation post.
Every adventurer and cultural enthusiast is invited here to enjoy the astonishing surroundings, and to feel the mystic power of the four thrones of Kokino made almost 6,000 years ago. Like every ancient finding, this one would not be complete without rituals.
The thrones are placed on the lower platform and according to archaeo-astronomical experts they were the central place for performing of the bonding ritual of the "Sun God" and its Earth representative. This ritual was performed in mid-summer or exactly on the last day of July. Thrones have markers that show the exact position of the sun and on that day the sun rises right in the opening of the marker. That day also corresponds with the time of the ending of the harvest - the end of the annual cycle of the plants, and in the same time end of the energy of the ruler. By reuniting with the Sun God, through the light that fell on its face during the ritual ceremony, the energy and the power of the ruler were renewed. This meant hope for a peaceful life for the community and rich crops in the year to come. Twenty hand grinders found in the proximity of the room at the base of the ritual mark are a testimony for the performing of the rite that marked the end of the harvest.
It is astonishing that all the markers were done with such precision almost 6000 years ago and with very limited tools, it shows people's brilliance in making the most out of the things that were available.
The uniqueness and significance of this place is exemplified in the fact that in 2005 NASA recognized the Ancient Kokino observatory as important heritage of such type within its "Timeless knowledge" project. NASA ranked Kokino on the 4-th place among the ancient observatories, and listing it side by side with ancient observatories such as Stonehenge (Great Britain), Abu Simbel (Egypt), Angkor Wat (Cambodia) and Machu Picchu (Peru).